Protect Your Medical Clinic and Your Patients
Secure HIPAA Document Destruction in Oregon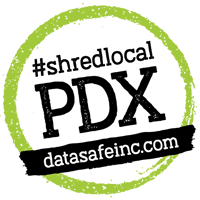 Maintaining patient privacy is a vitally important and complicated task whether you're a hospital, medical clinic, or independent practitioner. The regulations and laws relating to the gathering, storage, and destruction of confidential patient info are extensive. Ensure patient privacy while safeguarding your practice. Mishandling patient data can lead to fines, loss of patient trust, and even jeopardize the status of your license, especially if the Health Insurance Portability and Accountability Act of 1996 (HIPAA) has been violated.  
DataSafe has been working with medical clinics in the Portland, Oregon area for over three decades. We can develop streamlined, secure plans for the management, collection, and destruction of confidential data. With our scheduled, recurring shredding services, your practice and your patients will be secure and compliant.  
OBSOLETE TECH
Get peace of mind and security by eliminating a waste of space and a potential security threat.
Hard Drive Destruction
SAFE AND SECURE
Forget using your insecure and time-consuming personal shredder. We're efficient and safe.
Document Shredding
24/7 CRISIS AVAILABILITY
Your information is important to you – that's why we provide superior customer service, especially in times of crisis.
Document Scanning
Data Breaches and Hospitals
Medical practices collect huge amounts of personal data. But unsurprisingly, organizations handling patient data are susceptible to identity theft and data breaches. In fact, breaches have become more commonplace, especially with the advent of COVID-19. For example, 2020 saw a 55% increase in healthcare data breaches over 2019. While digital records are used more and more, especially in healthcare, paper hasn't gone anywhere. Whether vaccination cards, visit summaries, or FMLA documentation, there are numerous opportunities for data to get misplaced, carelessly placed in a recycling bin, or picked up by would-be criminals. And how are you handling unused and outdated digital media that contains data protected under HIPAA? Don't simply store these precious devices in a warehouse or storage closet – ensure they're securely destroyed!
Emphasize security at every step of the process and make regular paper and digital shredding one piece of the puzzle.  
Why Datasafe?
DataSafe has been serving medical professionals in the Portland, Oregon area for decades. With our long history, we've seen it all and we've shredded it all. Plus, DataSafe: 
Is local to the Pacific Northwest

 

Is

NAID AAA certifi

ed

 

Has

transparent pricing

 

Employs well-

trained and vetted

staff

Provides

clients with a

Certificate of Destruction

 
Whether You Need Recurring or One-Time Service

DROP-OFF TO DATASAFE
Looking for the most affordable shred option? Deliver your boxes/bags of paper to us! Simply call and schedule a time to drop by our facility at 19365 SW 89th Ave. in Tualatin and we'll take it from there.

WE'LL PICK UP
Don't want to lug heavy boxes of paper around town? No need — we'll happily pick up your materials, securely shred them at our location and send you a Certificate of Destruction so you can be certain your documents are destroyed.

SERVICE AT YOUR LOCATION
Are you the "see to believe" type? We have a service for that! For the ultimate in convenience and security, our mobile shredding truck will come to you. Note: This service requires a 25 ft. clearance and safe parking.
Stay Compliant
It's your ethical obligation to keep your patients' information safe. Plus, there are many laws that require it of your clinic. In additional to HIPAA, there are numerous state and federal regulations and laws that must be adhered to, such as California's Consumer Privacy Act and the Gramm–Leach–Bliley Act. Failure to comply can lead to fines, lost revenue, and loss of employee and patient trust.  
Make sure your clinic or hospital is protecting personal and financial data and identities. DataSafe helps you stay compliant with our ongoing, scheduled shredding and data destruction services. 
We Can Destroy It All
Your medical practice collects an incredible amount of data, whether internal (such as financials, HR records, and payroll) or patient-focused. Failing to properly store this material properly puts your healthcare facility at risk of data breaches, and your employees and patients at risk of identity theft. DataSafe securely destroys records, no matter if they're paper or digital formats.  
Financial documents

 

HR files and payroll

 

Invoices and payments

 

Medicaid info

 

ACA info
Patient insurance

Lab results and imaging

 

Social Security numbers

 

Staff PII (personally identified information)

 
Hospitals & Clinics Choose DataSafe
FOR MEDICAL DOCUMENT SHREDDING AND DATA DESTRUCTION
NAID AAA Certified
A proud member of the National Association for Information Destruction, we're also certified through their AAA program. We're audited for compliance through their comprehensive scheduled and unannounced program.
Ongoing, scheduled route paper shredding services
Our professionals are reliable and punctual, and we offer a variety of scheduling options to meet your unique needs.
One-time purge services available
Cleaning out a storage room or warehouse? We can shred that! Affordable fair pricing with no complicated contracts or hidden fees. Our prices are simple and direct.
Superior customer service
When you call, you'll reach one of our staff members. No outsourcing to call centers here! Plus, we've been locally owned for over 30 years. We care about you and our community. 24/7 emergency services, too. Need it shredded now? We can help!
Professional Shredding Is the Secure Option
Clinics and medical offices may be tempted to shred their own documents but this is an expensive option. Employee shredding doesn't give you the accountability and documented chain of command you need to ensure compliance. If employees pick and choose what is shredded, there may be valuable information left behind in a recycling bin. The documents that are shredded may still contain legible data since in-office shredding machines aren't secure enough. Motivated thieves can piece together paper from a strip-cut or cross-cut shredder. Plus, your employees may spend too much valuable time shredding instead of doing their actual job duties – this is a significant cost to your organization.  
Learn how a professional shredding service can improve your bottom line.

What Our Customers Are Saying
Digital Services for Healthcare
Our online backup service is a flexible, affordable solution for small-to-medium law firms. It can supplement tape backup systems or backup remote servers and laptops.
Cloud Services
DataSafe offers two options – scanning applications and capture applications – to conveniently and securely convert paper to digital formats.
Document Scanning
Escrow reduces the risks of licensing code while helping to facilitate an efficient recovery should a worst-case situation arise.
Technology Escrow
HAVE QUESTIONS?
OUR EXPERTS CAN HELP!