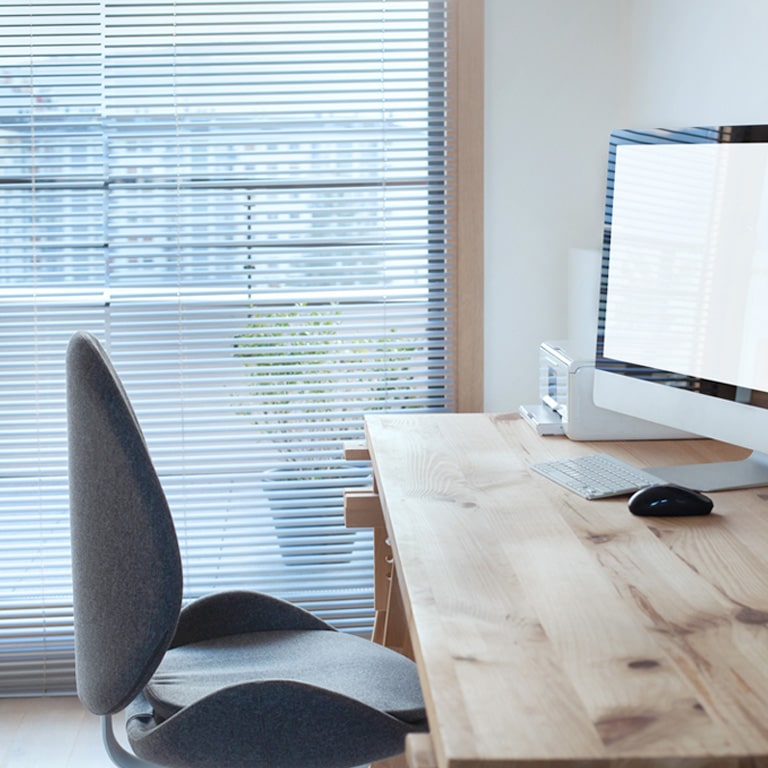 How To Implement a Clean Desk Policy During COVID
UPDATED FOR 2022 
For many of us, remote working is here to stay. Whether it's full time, or a hybrid model, it's important to be proactive and firmly establish your business's security policies and procedures. Since your staff will most likely still be spending some of their workweek at home, it's important to establish a Clean Desk Policy, which is a great way for you to set up your remote work security protocols. Not only is it easy to create, but it will have very real results for your business and possibly even your bottom line.  
What is a Clean Desk Policy?
It's a corporate mandate that directs employees to leave their workspaces clean and clear of clutter at the workday. Motivated by security concerns, Clean Desk Policies are a way to ensure important information isn't neglected and left in piles on desks where it can easily be accessed by thieves or anyone with office access.
A Clean Desk Policy should be created by management and distributed to all employees to sign. The policy clearly outlines procedures, expectations, and, if applicable, consequences for noncompliance. Generally, employees are responsible for cleaning their own workspaces and placing unneeded notes, files, or digital media in a storage or secure shredding area.
During widespread remote working, a Clean Desk Policy is even more important. Although our homes likely have fewer people coming and going than they did before the pandemic, sensitive data can still get in front of the wrong eyes. You and your employees may be working at home with a partner, adult child, or roommate. No matter how much you trust those in your households, accidents and lapses in judgment can occur. Plus, there's the risk of your sensitive documents appearing on someone else's video call. Don't inadvertently expose your company's important customer, client, or financial information. Lastly, while we like to think our homes are secure, break ins can occur anywhere. A messy desk at home is just as vulnerable as a messy desk at work!
What can a Clean Desk Policy accomplish?
Protect sensitive company and client information. Even the most conscientious employee can occasionally leave important information laying out in the open, leaving you at the mercy of unscrupulous employees, roommates, or home or office visitors. Make sure only authorized employees view your company and client data by securely storing or disposing of this information at the end of every day when you're in the office.
In a remote work setting, this might look like moving to a paperless office or at least trying to reduce the need to print paper. Implement an online file sharing system or use a software like DocuSign to help eliminate paper. If paper records are necessary, then use a scheduled recurring paper shredding service like DataSafe's. Your employees simply need to compile sensitive documents and have them ready to be picked up on the scheduled date. If you're concerned about security before we pick up the documents, you can require employees to store items in a locked safe or a secure bin that we can provide.
Keeping documents safe in a hybrid work model
A clean desk policy is especially important if employees are working in a hybrid model. Transferring documents to and from their home and work office can easily lead them to being left in sensitive, easy to find places. A study done in 2021, found that 74% of organizations attributed damaging cyberattacks to vulnerabilities in technology during the pandemic.  
It's also essential to make sure employees avoid using personal devices to do their work. While it is understandable for wanting the convenience of using your own personal device to get work done, it leaves valuable and secure information vulnerable to being breached. Working on a company device gives a few extra layers of security including two-factor authentication, and trusted network security.  
It's also a good idea to remind your employees not to use unsecure public networks if they are working in places outside of their home like coffee shops. Often, these public WIFI's are not secure, and can have easily accessible passwords for people to join. This means that these networks can provide a great opportunity for other people on that network to see what your employees are doing, thus making your sensitive documents vulnerable.  
If an employee must work from a public place, a fantastic way to prevent documents from being seen on a public network is for them to use a VPN (Virtual Privacy Network.) A VPN will keep your employee's data private by allowing them anonymous online activity that will encrypt their online data so it cannot be traced back to them by potential hackers.  
Avoid data breaches. While the news is full of data breaches caused by hackers, especially during COVID, professionals say that employees or third-party insiders are most often the cause of breaches. Whether the breaches are malicious or merely the result of careless actions, the results are the same: your company's data, or that of your customers or clients, is compromised. Dealing with a data breach is a PR nightmare, to say nothing of the cost and time required to clean up after one.
Support a workplace culture focused around security. Clean Desk Policies keep security at the forefront of your employee's mind. By continually discussing the risks and issues related to lax security, as well as what company policy is, your employees will become well-trained in how to properly store sensitive materials. Read our tips on staying secure when working remotely.
Stay compliant. Depending on your industry, you may be required to stay in compliance with standards such as  ISO 27001 or HIPAA. Clean Desk Policies help you meet the requirements of these standards so you don't risk falling out of compliance.
Use resources wisely. Clean Desk Policies discourage the use of paper. By striving for a paperless office, you'll use fewer resources. (The average American uses 680 pounds of paper annually.) Your costs will decrease, too, if you print fewer documents. Save money on paper, printer toner, and equipment!
Increase productivity: Numerous studies indicate that a clean desk has numerous benefits, including feeling more competent and reducing anxiety. Plus, many of us are having issues concentrating during the pandemic, so any opportunity to improve productivity when working remotely should be embraced.
So there you have it. Keep it clean and keep it safe. Questions? Contact us for all your security and shredding needs.