Boost Business Security And Productivity With A Clean Desk Policy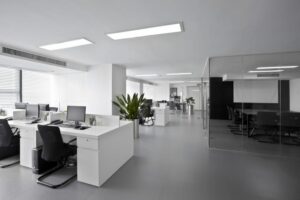 A clean desk policy requires all employees to have a clear desk at the end of the day. This means that all documents, post-its, notes, and removable USB drives are safely stored and locked away in your employees' desks or in a filing cabinet.
You can reduce and prevent risks such as identity theft and information loss by keeping sensitive information off of desks and organized.
Clean desk policies promote business security
In recent years, the threat of cyber attacks and data breaches have had many companies worried about their security. But, according to IBM, up to 60% of all corporate cyber attacks in 2016 were carried out by insiders.
These cyber attacks are often because of carelessness or accidents such as forgetting about sensitive paperwork on one's desk.
Employees handle sensitive information on a daily basis, but the risk of an information breach goes down when they're required to safely collect and store their files at the end of the day.
When employees lock away paperwork and portable media devices at the end of the workday, it makes it more difficult for identity thieves to swipe the information they need for a data breach.
Clean desk policies promote employee productivity
Employees who work in a clutter-free work environment are more likely to stay on task and feel productive. Workplace clutter creates stress and serves as a reminder that the employee's work won't be done at the end of the day.
A clean desk policy gives your employees a sense of organization and structure that helps them feel at ease in their work environment. The more relaxed your employees feel at their desks and the more motivated and on-task they'll be.
What's more, by putting away the documents they've used at the end of the workday, they'll have a greater sense of accomplishment and will feel less stressed because they're physically (and mentally) putting their work away for the day.
Looking for shredding services in Portland?
Identity theft is the fastest-growing crime in the United States. Paper shredding services and clean desk policies go hand-in-hand because they both promote business security and employee productivity.
Whether you're looking for a one time document purge or ongoing scheduled shredding services in Portland, Data Safe has you covered. To learn more about our shredding services in Portland or to schedule your shredding, contact Data Safe today.