4 Big American Data Breaches: The Critical Reason To Shed Your Documents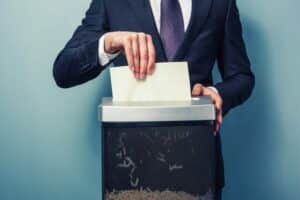 Data breaches happen on a daily basis. In fact, businesses were affected by 312 data beaches in 2015 alone, affecting up to 16.2 million people.
But what's considered a big data breach versus a small breach? For many, the size of a data breach is determined by how much damage has been caused for the business, users, and insurers.
The following are four of the biggest data breaches seen by American businesses since the year 2000.
Heartland Payment Systems 2008 data breach. In March 2008, Heartland suffered a data breach via spyware that exposed the credit cards of 134 million people. It wasn't until January 2009 that the breach was discovered when MasterCard and Visa notified Heartland of suspicious activity. Heartland paid out approximately $145 million in compensation.
eBay 2014 data breach. In May 2014, eBay suffered from a cyber attack that exposed the names, dates of birth, passwords, and addresses of 145 million users. Fortunately, the hackers were unable to access users' financial information.
Yahoo 2013-14 data breach. Yahoo announced in September 2016 that it had suffered from a major data breach in 2014. Users' real names, date of birth, telephone numbers, and addresses were compromised. In December 2016, Yahoo said had a previous breach in 2013 that compromised 1 billion accounts. In October 2017, Yahoo said the estimate of affected users was closer to 3 billion.
Equifax 2017 data breach. On July 29, 2017, the credit bureau Equifax suffered from a data breach via an application vulnerability in one of their websites. The breach exposed the personal information of 143 million consumers and the credit card data of 209,000 consumers.
Get Rid Of Documents: How To Reduce The Risk Of A Data Breach
According to the National Criminal Justice Reference Service, the most common form of reported identity theft is government documents and benefits fraud. In fact, 90% of identity thefts use information that was stolen from print sources rather than online sources.
That being said, it's essential to get rid of documents that are outdated or obsolete to prevent information from being stolen.
A professional shredding service can purge documents in a safe and secure environment to make it impossible for information to be recovered. To learn more about Portland document shredding or to schedule your document shredding, contact Data Safe Inc. today.