Why Choose DataSafe?
There's no shortage of paper shredding options in the Portland, Oregon area. Why should you choose DataSafe? We might be biased but we're pretty sure we're the best!
Local Business
DataSafe has been a proud member of the Portland community since our founding in 1984. We're committed to the area in many ways. From volunteering our time and services to worthy causes to being part of the Portland business heritage and serving the sustainability of our local economy and our communities, we're Oregon through and through.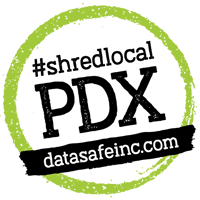 Plus, our team members are local. Every call is answered by a real, live person. When you call or email us, you'll be communicating with a person from our community. No big call centers here. Our employees are polite, knowledgeable, and fully versed in all things security. With an average tenure of 5+ years, we know our employees well and we know you can trust them with your security. In keeping with proper security protocol, DataSafe performs regular and random security background checks and DMV report checks on our team.
Fair Pricing
Our pricing is straight-forward and honest. There are no micro charges in the fine print or recurring up-charges. There are no complicated contracts with "gotcha" fees. You pay for service as expected and agreed upon. Want to shop around? Our Shred Estimator provides you with the ability to receive a quote and schedule service online. We're so committed to transparency – and so sure that our pricing is the best around! – that our prices are front and center. (Psst! If you schedule online now, you'll receive 10% off your order!)
Security Experts
We understand that your information is valuable and the backbone of your company. That's why safety and security is at the forefront of everything we do. Our NAID AAA certification proves that we're held accountable and stay up-to-date on the latest in the industry. DataSafe is committed to keeping your assets safe and secure, whether your information is destroyed at your location or at our facility. Our climate controlled secure building was built with security in mind. Risk of facility failure is minimized since we don't share wall space with other tenants so we're truly safe and secure.
Are you a believer now? If not, contact us and we'll change your mind! Or, if you're already onboard, schedule your service now and receive 10% off!