Top 10 Reasons Shredding is Important
As a business owner, you understand that keeping confidential information secure is essential to your continued success. Outdated documents stored on your property pose a threat to your livelihood, and that of your employees, clients, or customers. To ensure that your reputation and your business isn't jeopardized, you should destroy records that you no longer need. But if that doesn't encourage you to consider professional paper shredding, we came up with our top 10 reasons to shred. Take a look and give us a call!
Shredding documents is important because it:
1: Is required by law
Many types of data are legally required to be disposed of securely. If you're dealing with customer or employee data that contains personally identifiable information (PII), then you need to shred those records. PII includes common details like name, address, and email address, as well as data that can more clearly create privacy issues, such as Social Security numbers, credit card numbers, and medical information. Depending on the type of industry you serve, there may be additional regulations you need to follow, such as the Health Insurance Portability and Accountability Act (HIPAA), the Fair Credit Reporting Act (FCRA), and the Payment Card Industry Data Security Standard, otherwise known as PCI compliance. No matter what regulations guide your industry, DataSafe has the knowledge and the expertise to guide your shredding process.
2: Protects yourself and others from identity theft
Security simply cannot be emphasized enough. Identity theft seems to be constantly increasing thanks to large scale data breaches that dominate the news. In 2020, data breaches so far include Microsoft, Marriott, T-Mobile, and SBA emergency business loan applicants who sought funding due to Covid-19. In fact, the pandemic has unfortunately created many opportunities for thieves. Cybercriminals are not only targeting Americans who are working from home in the hopes of taking advantage of the relative lack of security, but they're exploiting our fear of the virus in order to steal PII. From fraudulent mask vendors and spoofed health sites to phishing scams, thieves are out in full force. Criminals are even targeting unemployment benefits and stimulus funds. Secure shredding protects yourself, your employees, your clients, and your business from falling prey to opportunistic criminals.
3: Protects your business
Your business data is vital. How careful are you and your employees when handling and storing your financials, customer or client information, historical data, expansion plans, and more? At best, a data breach is an embarrassing mention in the news. At worst, it can lead to loss of business (or lawsuits!), generate expensive fines, and potentially even result in competitors stealing ideas and customers.
4: Gives you more space
Why keep stacks of paper in your office or store boxes of old records in a closet? Enjoy a clean, uncluttered work area while using your storage area for extra supplies and spare equipment — not unneeded paper!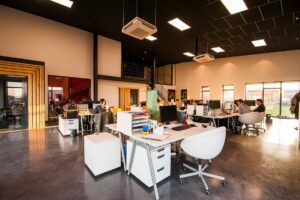 5: Creates a safer environment
Piles of paper can actually be a fire hazard. Although paper isn't as combustible as something like oil or gas, it's still a potential fuel for a fire. When there's a lot of paper close together in one space, then you also have a lot of flammable materials on your hands. Remove the hazard and get those papers shredded!
6: Keeps employees productive
If your employees are shredding paper using an office shredder (which are often not secure enough, by the way!), then you're paying your employees to manage a tedious and manual process that isn't technically part of of their job. Let your employees focus on their job tasks and leave the shredding to professionals!
7: Makes recycling easier
Recycling is an easy way to demonstrate that your company cares about sustainability, but managing the process can take time. Don't worry about sorting your paper, deciding what needs to be recycled, and then training your employees. DataSafe is proud to recycle all of the paper we shred. Simply dump everything into one bin and rest easy knowing that everything will be recycled … and recycled securely!
8: Saves time
With DataSafe's recurring shredding service, you simply toss all your paper into a locked bin. No sorting, no filing, no paper cuts. Then on your scheduled pickup day, we take the bin and destroy your paper. The entire process is quick and easy.
9: Saves money
An internal shredding process can be costly. In addition to purchasing a quality, secure shredding machine, you must buy disposal bags, replace equipment that breaks down, perform maintenance, and cover the utility expense. Then when comparing the cost of professional shredders, you should choose a company — ahem, like DataSafe! — that offers transparent pricing, no tricky fees in the fine print, and a wide variety of service options that ensure you're only paying for what you need.
10: Gives you peace of mind
Whether you worry about compliance, security, or your reputation, secure paper shredding by trained professionals is the best way to sleep soundly at night. Know that your private, important documents won't fall into the wrong hands! Since our founding in 1984, DataSafe has been protecting our clients' important assets with the best in security and customer service. Schedule one-time or recurring shredding online today!